Benefits of Octofrost iqf chiller

Natural Appearance
Efficient chilling below 5°C in the OctoFrost™ IF Chiller halts the blanching or cooking process immediately. This will preserve a superior quality of the processed product and allow for quick crust-freezing in the OctoFrost IQF Freezer. A low infeed product temperature is crucial for a high quality IQF product.

Energy Efficiency
As heat transfer is faster with water rather than forced air or traditional counter-flow water chillers, the OctoFrost™ rainshower system in the IF Chiller achieves the fastest heat transfer.

High Yield
Quick chilling means higher yield as the blanching or cooking process is stopped and the products do not become mushy or soft. Efficient chilling with Octofrost IF Chiller significantly improves yield in the IQF freezing stage by feeding in a product with very low core temperature (not more than 5°c).

Food Safety
The whole system, including the PHE and filter, will remain below the critical temperature of 6°C to guarantee food safety. This means that the chiller can run non-stop, without the need for water change, until the end of the production day.
LOW CHILLING TEMPERATURE in the cooling tunnel
The water in the OctoFrost IF Chiller is filtered, recirculated and then chilled by the plate heat exchanger (PHE). The PHE provides ice-cold water with a temperature of 1°C. The system is designed to reach a product core temperature of 5°C or less. The water falls gently over the product by means of gravitation only, therefore product quality is not compromised. A low product core temperature translates in better IQF freezing result and a higher yield.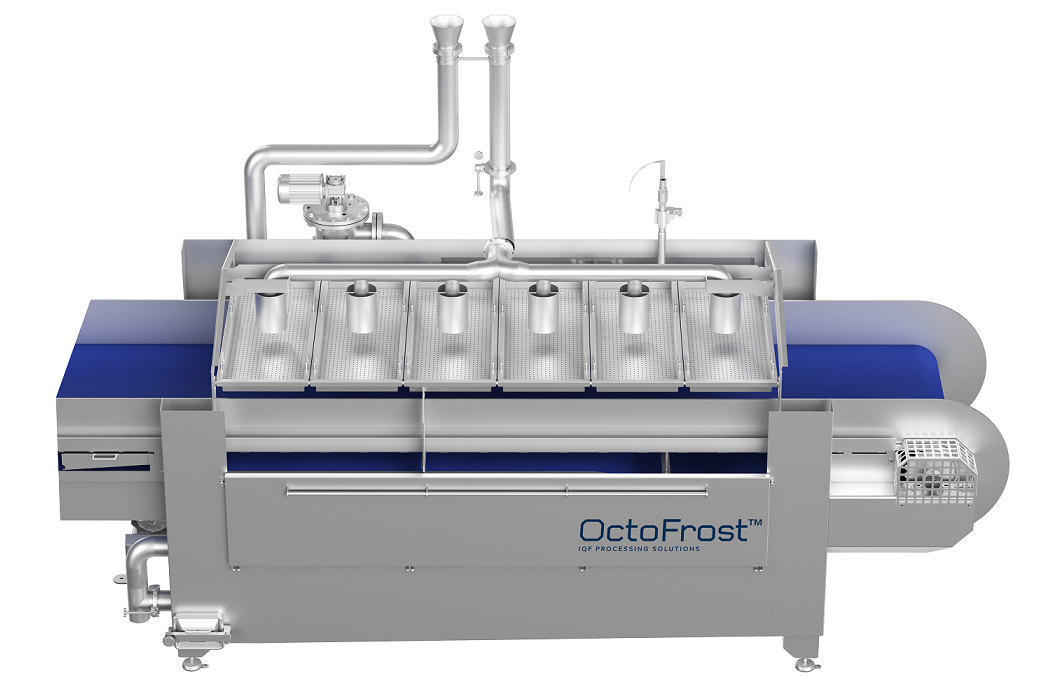 CROSS-FLOW system in the food processing chiller
The OctoFrost™ cross-flow water system results in the quickest possible chilling of the product. The high volume of filtered and recirculated 1°C water is distributed evenly across the whole width and length of the chiller; deluging the product and immediately exiting the chiller to be re-chilled by the PHE. The temperature increase of the water after passing through the product does not exceed 4°C, requiring little energy for re-chilling. The water flowing through the chiller has the exact same temperature in every part of the IF Chiller.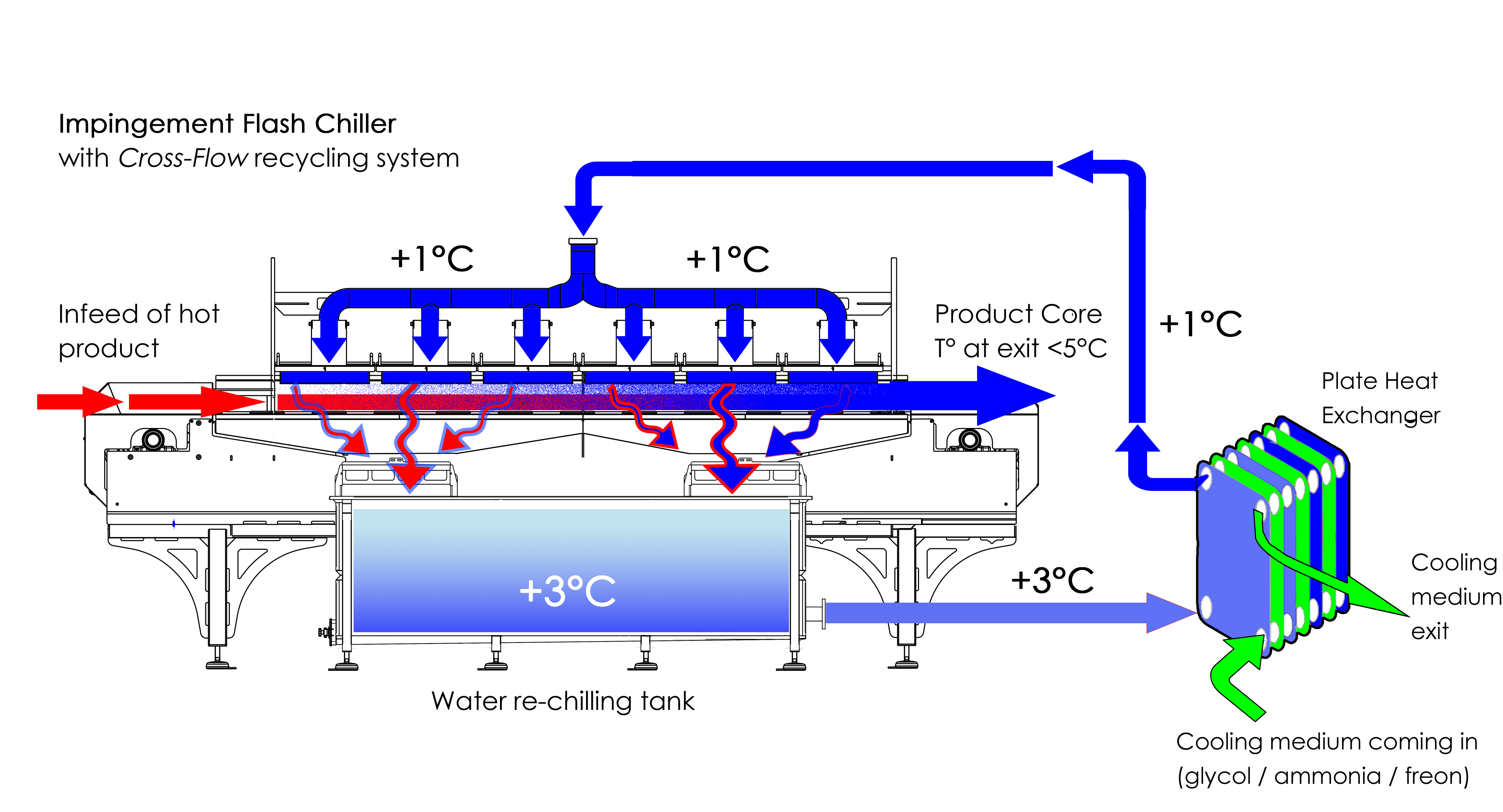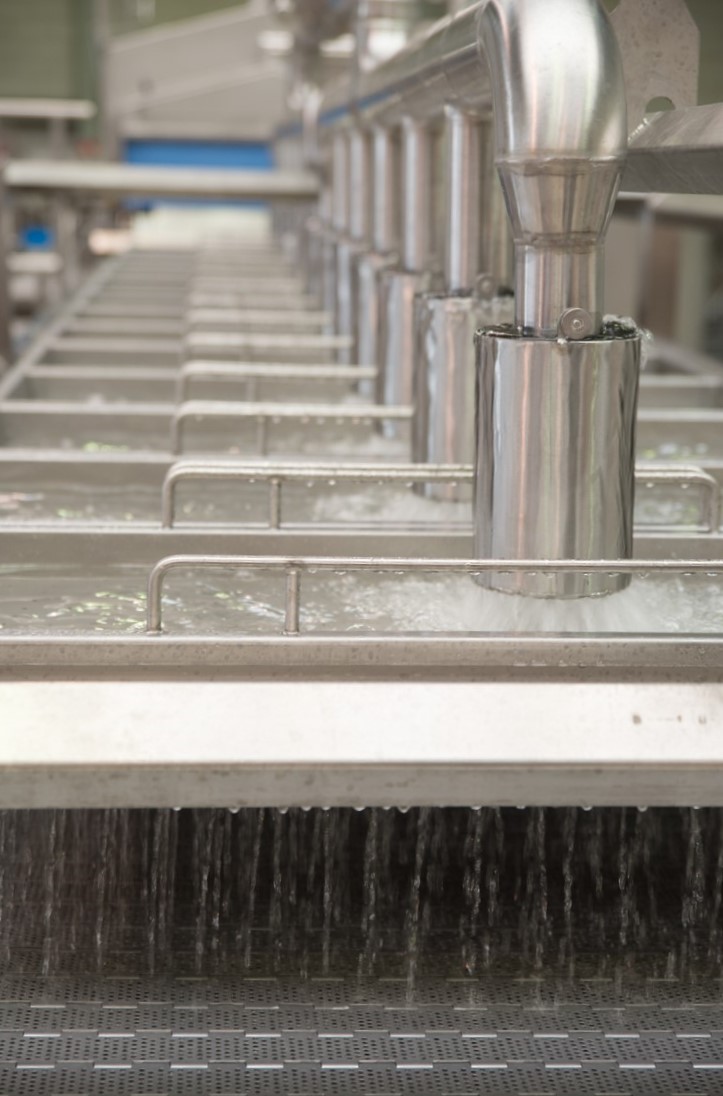 KEY BENEFITS of the IF CHILLER:
The temperature of the chiller water is between 1° and 2°C at every position in the IF Chiller;
Cross-flow water circulation
Quicker chilling process which improves yield and product quality;
System temperature in the IF Chiller is below 6°C for reliable food safety;
The fastest heat transfer due to the high volume of 1°C ice-cold water and the impingement flash (IF) technology, as compared to any other system available;
High volume of recirculated water over the product;
CIP system in place;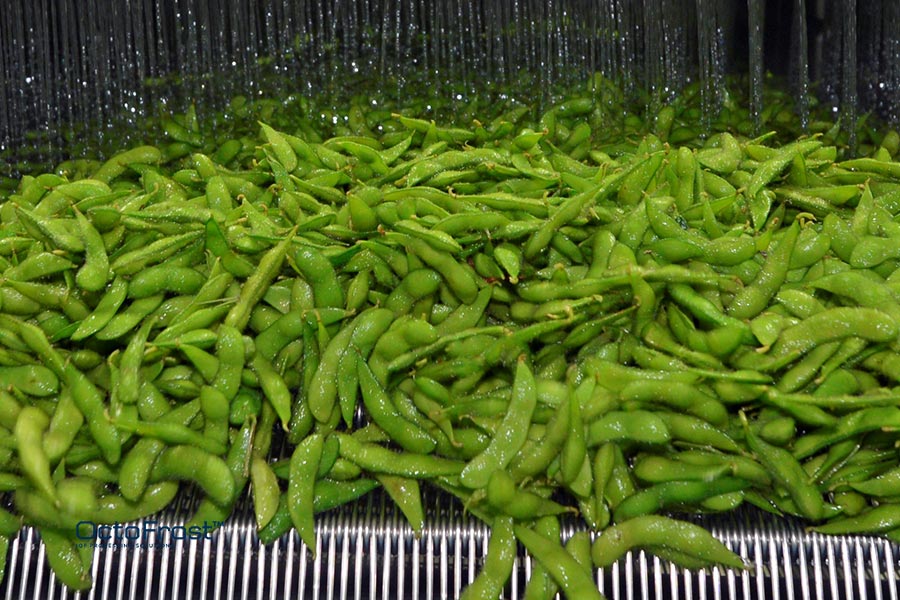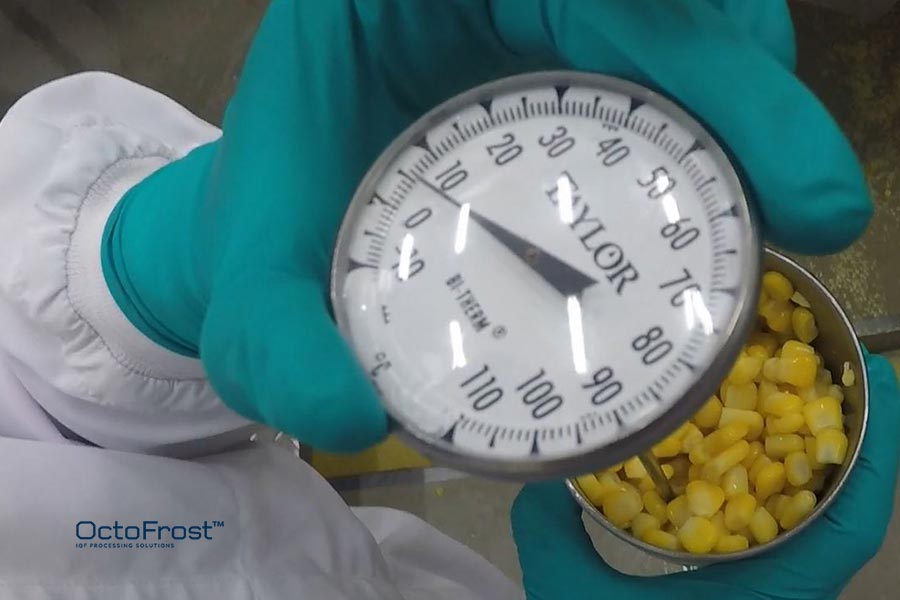 Equipment capacities
OctoFrost offers a capacity range of 1,000 to 15,000 kg/h for the OctoFrost IF Blancher.