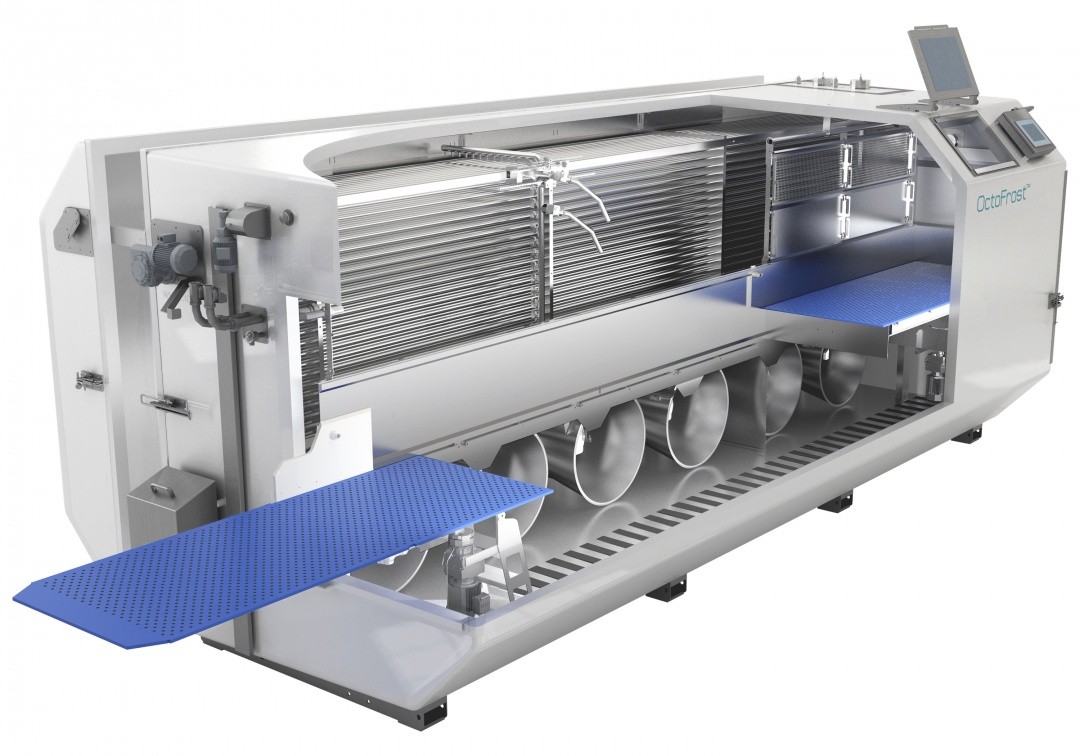 OCTOFROST™ REVITALIZES THE IQF INDUSTRY
OCTOFROST™ REVITALIZES THE IQF INDUSTRY AND RAISES THE BARS FOR FOOD SAFETY AND DOWNTIME
IQF Frost AB, a global leader in high-performing IQF solutions, is pleased to announce the launch of the new IQF freezer, OctoFrost™, which is designed to meet the increasing demands from food producers for reliable food safety, long run time and high yield. IQF Frost will be showing the OctoFrost™ at the Anuga Foodtec fair in Cologne, March 24-27th.
The OctoFrost™ is unique by its mono-block design and easy interior access for reliable and swift cleaning. It has been equipped with air knives that blow high pressure air in the coil during production, a feature that will help keep the coil free from product particles, prevent it from building up snow and optimize run time between defrost. To decrease down time and speed up the cleaning process more spray nozzles for warm water have been installed.
"Every minute saved in decreased down time means more earnings for our customers", says Rasmus Larsson, CEO at IQF Frost. "Understanding our customers' environment play a key role when working with product development. Our customers should have the highest value of ownership".

Inside the freezers, the patented removable bedplates have been given a new click design that will significantly decrease handling time for the plant staff. Energy friendly LED-lights have also been installed to improve cleaning inside the freezer. An IQF freezer is a long-term investment and customers are looking for freezers that are reliable and durable for freezing fruits, vegetables, cheese, seafood, meat and poultry. The octagonal design and aerodynamics of the OctoFrost™ is optimized for high capacity per hour, yet is sustainable with usually more than 10% less energy consumption then similar products on the market. A dry air infusion system has been installed in the operating panel, lights and motors, eliminating the challenge that many food producers face of condensation, due to the variation of temperature in the freezer. Additionally, the freezer has been reinforced with stronger fins in the coil and an anti-slip shockproof floor.
A known problem in the industry is the challenge of quick freezing sticky products. Many times the products come out in lumps, which decreases the value of the product. A solution to this challenge is a combination of vibrating product beds and a pulsator. The pulsator in OctoFrost™ will use the fans capacity to pulse the air in a much more efficient way to separate the fruit dices.
IQF Frost has been on the market since 1999 and has close to 200 installations worldwide. The freezers are manufactured in Sweden and the company is driven by its vision to make sustainable food available for everyone, everywhere. To have a clearer communication the company will starting April 1st 2015, change its name to OctoFrost AB, and the service company ProFrost AB will be named OctoFrost Technology. Both companies will be part of OctoFrost Group with existing owner structure.
---