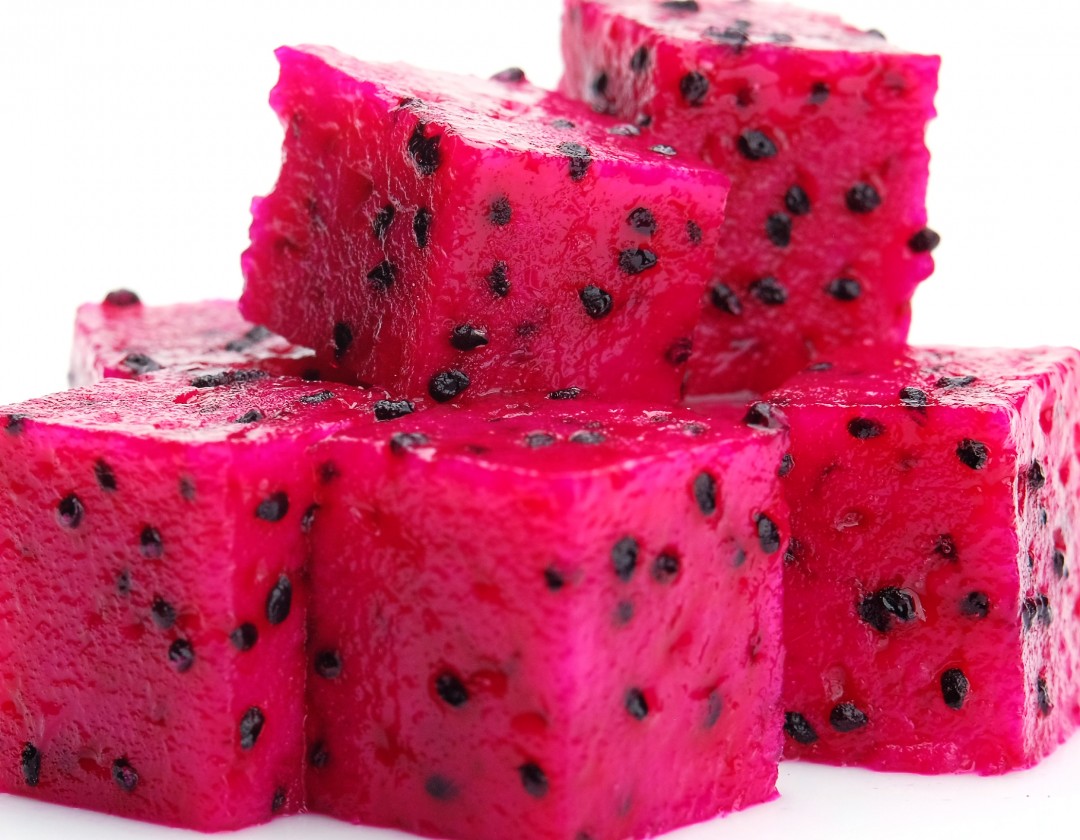 The growing popularity of IQF Tropical Fruits: A regional analysis
According to Grand View Research, the global IQF market is experiencing a compound annual growth rate of 6.7%, a trend that is expected to continue to 2027 due to the increasing consumers' demand for high-quality, durable products. Along with it, the tropical fruits market continues to grow as exotic flavors gain popularity among a large mass internationally, and the dependence of consumers on fruit and veggies increases due to the growing veganism. 
IQF Tropical Fruits gain popularity
This has led the IQF tropical fruits market to grow rapidly during the past decade and, as a result, exotic fruit varieties are being frozen and exported globally. For this reason, IQF tropical fruits offer retailers a competitive advantage.
Avocados, bananas, pineapple, mangoes, and papayas are the five most popular tropical fruits in terms of volume and sales. Nevertheless, other varieties such as passion fruit, pitahaya or dragon fruit, and cherimoya among others can be very successful, especially if they are marketed in the right regions and to the right audiences. 
Using insights from the OctoFrost team and Google search trends, we have analyzed the most popular tropical fruits by region. This data can be used to better understand which markets are worth entering or which varieties are worth promoting within your market.
News on the IQF Tropical Fruits market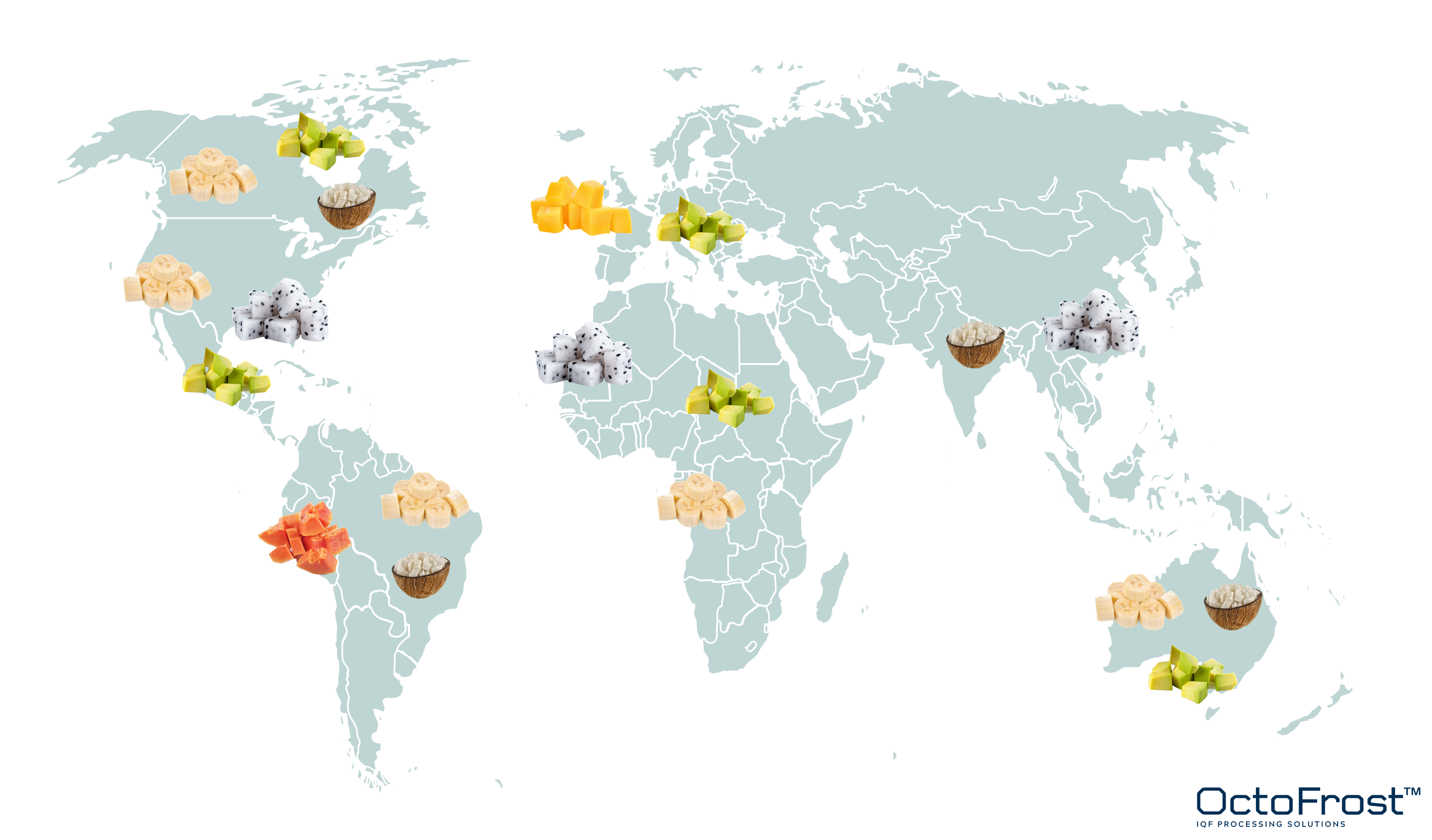 North America is one of the leading markets
North America accounted for more than 30% of global revenue in 2019 and remains a major player in IQF tropical fruit. The reason is not only the sheer size of the market but also the increase in demand for exotic and natural fruits in the region due to demographic changes.
Europe: increasing demand for tropical varieties
According to CBI, the European market spurs the global growth of this market by contributing 45% of the total imports of tropical varieties. This trend is expected to continue increasing at a rate of over 5% during the coming years.
Asia Pacific to become a global power in IQF Tropical Fruit
Market Data Forecast estimates that the Asia-Pacific frozen fruit market will grow at a CAGR of 6.32% by 2026. This growth can be attributed to the shift in consumer purchasing patterns where fresh products are often substituted by long-shelf life alternatives.
Middle East and Africa to be major powers
The IQF tropical fruit market is booming in the Middle East and Africa as a result of changing consumer tastes and a move towards more convenient foods. This market is expected to grow at a CAGR of over 5% through 2026.
What is the demand for IQF Tropical Fruits by region?
In terms of volume search, passion fruit and dragon fruit are the most popular tropical fruit varieties in the Middle East and Africa. Following these two are avocados, bananas, coconuts, and cherimoya.
Dragon fruit and coconuts are some of the most popular tropical fruits in the Far East, while in other countries in this same region, such as Australia and New Zealand, consumers prefer passion fruit, banana, avocado, coconut, sapote, and cherimoya. 
Mango is by far European consumers' favorite tropical fruit. Searches for Mediterranean countries such as France, Spain, Croatia, and Portugal are on the rise, suggesting that this region is, to a certain extent, open to exploring exotic tastes but is also conservative. Meanwhile, consumers in Central Europe from countries such as the Netherlands and Austria prefer avocado and cherimoya is gaining popularity in northern countries such as Sweden.

South America shows the highest search volume for tropical fruit varieties. This explains why Latin America and the Caribbean are among the top producers and exporters. While bananas are the most abundantly produced fruit, papaya is the most searched for in many countries such as Bolivia, Jamaica, Costa Rica, Nicaragua, and Guatemala. Following these two, there is high interest in cherimoya - especially in Chile and Argentina -, coconut, dragon fruit, and sapote. 
South East Asia is home to a wide range of tropical fruit varieties. For this reason, according to Statista, countries such as Indonesia are expected to dominate tropical fruit production and export by 2045. In this specific country, the most sought-after tropical fruit according to Google Trends is sapote, but other fruits like passion fruit, bananas, coconuts, avocados, and dragon fruits are also popular.
Finally, research shows that US and Canadian consumers have similar preferences for tropical fruit. Bananas and avocados are among the top two choices in these two huge markets with high demand and interested consumers. Coconut and dragon fruit are next on the list.
A competitive advantage for IQF fruit processors
Conclusively, it is evident that the IQF tropical fruits market is not only hot in one region but rather it is growing on a much larger scale, thanks to globalization and changing consumer tastes and preferences. The analysis provided above highlights a market trend that offers a competitive advantage to frozen fruit processors globally. 
---