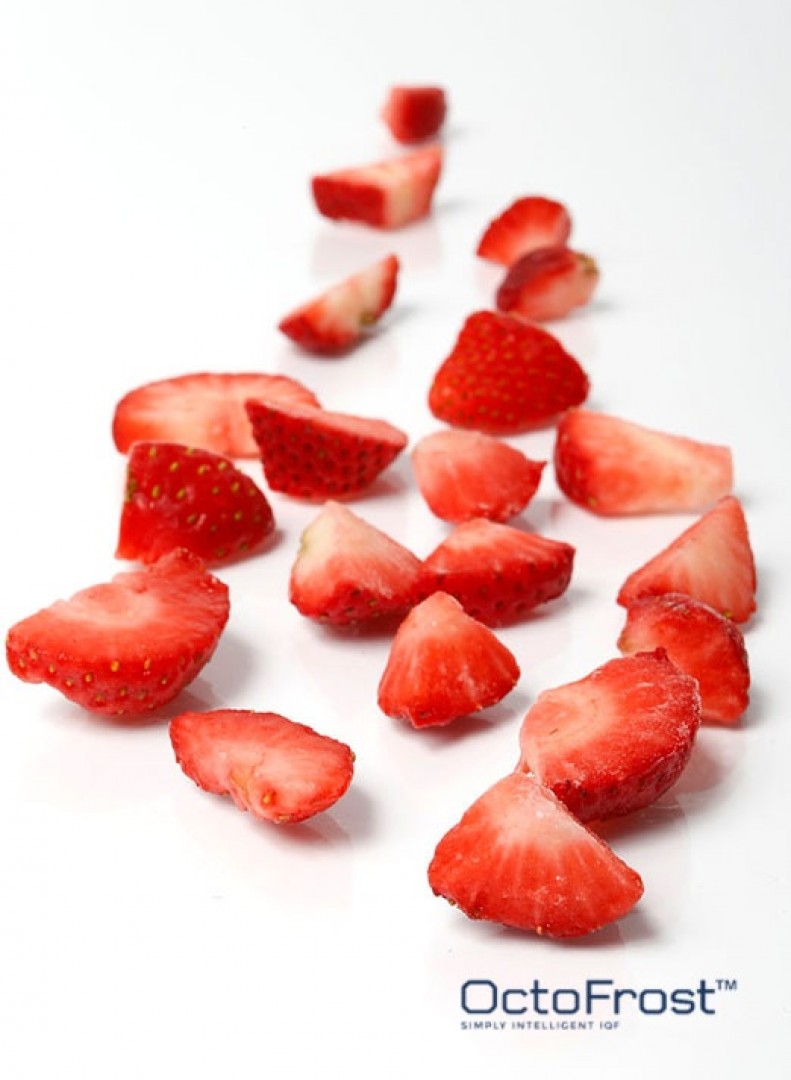 HOW TO ACHIEVE PREMIUM IQF STRAWBERRIES
The consumption of frozen strawberries on the global market is one of the highest among IQF fruits and IQF berries. With such a big demand and quite stable figures in terms of volumes sold, it might seem that there is no need for improvement. On the contrary, because of this, the competition gets bigger when it comes to providing high quality of the products.
Not all suppliers can provide premium quality IQF strawberries, because strawberries are sensitive products to process, and in order to deliver high quality to the market there are 2 major factors to consider: the right pre-treatment and the right freezing technology.
The right pre-treatment
Strawberries are typically considered sensitive products when they are handled mechanically. The usual pre-treatment is washing and dicing or slicing (if desired). A very important factor that can substantially improve the freezing result and thus the quality of the IQF strawberries is the pre-cooling. A colder infeed into the freezer results in better quality and the OctoFrost team recommends processors to aim for 50C.
One of the challenge while freezing strawberries is to preserve the natural appearance of the product after freezing. This is more than ever a challenge when the strawberries are diced or slices because the high sugar and water content of the product will make the pieces sticky and thus with a high risk of lump formation.
Also, overripe strawberries and strawberries pieces should be removed. Otherwise the soft juicy jam will spread to the other strawberry pieces and create blocks and lumps.
The right freezing equipment
It is really important to choose the right freezing equipment when individually quick freezing strawberries. One of the major features that needs to be considered is the type of belt used to carry to product inside the freezer during the entire freezing process. IQF freezers with a metal mesh belt will most likely eave belt marks and burns on the product, thus affecting the quality of the end IQF strawberry product.
The OctoFrost IQF tunnel freezer perforated bedplates play an important role in preventing belt marks and burns on the surface of the IQF strawberries. The OctoFrost bedplates are built from food grade plastic and the strawberries are in a gentle continuous movement without sticking to the bed.
The gentle continuous movement is also possible because of the 5 adjustable freezing zones of the freezer. Each zone can be set to a specific fan speed, and thus create the optimal airflow which will prevent the strawberries to stick together.
In addition, the asymmetric movement of the bedplates plays an important role in maintaining a good product separation.
It is of course exciting that the IQF strawberry market is growing, but we shouldn't forget that the consumer's expectations are growing as well, at an equally high rate. Therefore investing in innovative, sustainable IQF technologies like the OctoFrost is the future in strawberry processing.
---