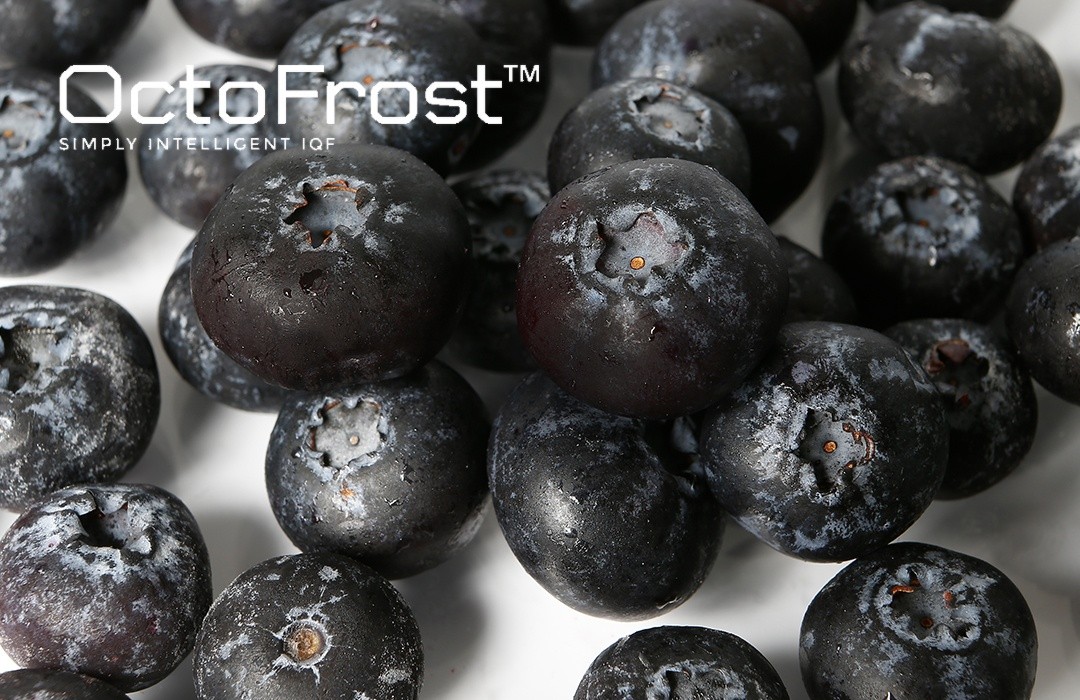 IQF BLUEBERRIES AND COMMON CHALLENGES FOR BLUEBERRY PROCESSORS
Among all frozen products, the IQF blueberry segment is projected to be the fastest growing in the upcoming years due to the growing demand from the bakery and confectionery industries across the globe. Processing IQF blueberries has its challenges for blueberry processors though, and overcoming these challenges will make the difference in quality on the market.
The most common challenges while freezing blueberries are the appearance, yield, and dehydration.
One of the most challenging aspects when freezing blueberries is to avoid surface cracks and burns on the berry surface. This can occur due to too slow freezing time or/and usage of metal mesh belts. Another challenge faced by blueberry processors is minimizing dehydration and keeping the yield and profitability high.
How to overcome the most common blueberry challenges?
In order to have a good final result of IQF blueberries, the pre-processing stage is very important. Many IQF blueberry processors focus only on the freezing stage and neglect the importance of the pretreatment.
The typical pretreatment for blueberries is precooling and dewatering with a big emphasis on an efficient dewatering to avoid excessive water on the surface of the product. Washing is a common practice for cultivated blueberries, while the wild blueberries are rarely washed. Destemming using tumblers is another common practice.
After the pretreatment stage, the blueberries are ready for IQF freezing. Choosing the right freezing equipment is another challenge because the delicate nature of blueberries is making it difficult to preserve the natural appearance of the berries after freezing.
The OctoFrost™ freezer is an optimal freezer for IQF blueberries due to several specific technical features which contribute to a natural appearance, low dehydration and high yield. With the help of adjustable fan speeds, the OctoFrost creates the optimal airflow in each freezing zone resulting in a gentle but quick crust-freezing. Also, the OctoFrost perforated bedplates, one of the main innovations of this IQF tunnel freezer, play an important role in preventing surface cracks or burns of the blueberries.
The result is good separated, naturally looking blueberries, which are easier to sell, often at a premium price.
OctoFrost™ freezer is designed with multiple freezing zones – each with an adjustable fan speed. This feature creates unique aerodynamics which leads to significantly less snow formation, when compared to other IQF solutions. Less snow formation equals less dehydration of the product which means higher yield and more profits for the processor. In addition, the speed of the OctoFrost™ fans can be adjusted with the frequency converters which allows fully customized airflow for each product type in each of the freezing zones. This feature will lead to energy savings that can reach as high as 30%.
---