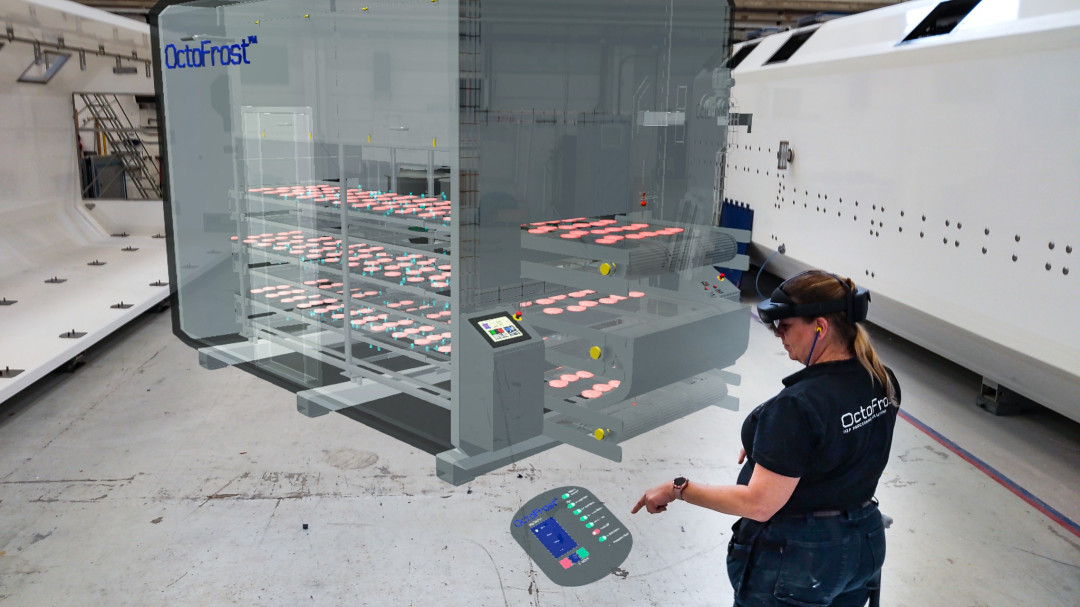 How AR Technology Transforms Production Experience
OctoFrost has introduced a novel concept aimed at reshaping the way individuals explore and learn about industrial machinery. By adopting augmented reality technology (AR), you can now explore the OctoFrost freezing equipment in a truly unique manner. This is made possible using specialized AR goggles and a custom-built app, which create an immersive virtual environment, transporting the user into a real production environment and bringing the OctoFrost Multi-level Impingement Freezer to life. 
A climate-friendly way of showcasing complex technology
The traditional approach to exhibitions often involves transporting heavy machinery across the globe. OctoFrost's adoption of AR technology offers a shift in this paradigm. Rather than shipping physical equipment, we transport a virtual experience, simplifying logistics and reducing the carbon footprint associated with exhibitions. This ensures that presence at exhibitions remains both sustainable and impactful. 
Experience a virtual production process
OctoFrost's venture into augmented reality serves to provide an engaging platform for customers and prospects, while catering to stakeholders who value innovation and sustainability. 
When wearing the AR goggles, participants don't merely observe passively; they embark on an interactive journey into a virtual production process where they can witness the capabilities of the OctoFrost Multi-level Impingement Freezer firsthand. This includes its versatility in freezing a variety of products, from hamburgers to shrimp and chicken fillets; while also testing the different functionalities of the machine. 
Reaching a Global Audience Through Virtual Demonstrations
The benefits of AR extend beyond the physical confines of exhibition halls. Virtual demonstrations can be easily shared online, extending our reach to a global audience. Clients and partners who might not attend physical expos can now access a virtual showcase at their convenience, transcending geographical boundaries. 
Coming Soon: Dubai and the USA
Excitement is building as two of the largest events in the food processing industry are approaching: Gulfood Manufacturing in Dubai and Process Expo in the USA. We are preparing to welcome all our customers and partners at both events and showcase the AR experience to the curious visitors. Attendees at these exhibitions will have the opportunity to try firsthand running an OctoFrost Multi-Level Impingement freezer with its multiple functions and product types. 
So, prepare to don those AR goggles and step into the future of frozen food processing with OctoFrost. It's an exciting journey that's just beginning. 
---