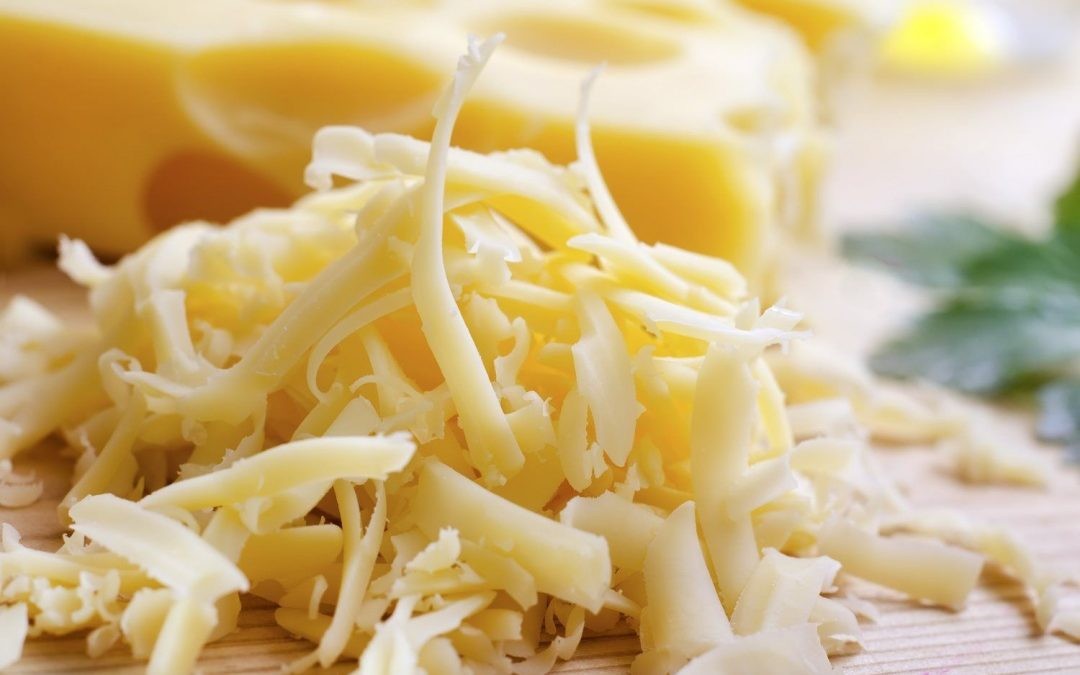 HOW TO ACHIEVE PREMIUM IQF CHEESE
Future growth in the cheese industry is fueled by the increasing demand from the convenience sector, particularly the frozen pizza segment. As IQF cheese has the benefit of being easy to use, it is gaining ground and popularity on the market.
PREMIUM IQF CHEESE
IQF is emerging as a more efficient and superior freezing method. Cheese that is IQF frozen will have minimal textural change, unlike cheese that is frozen using older technologies. While you can freeze just about any type of cheese, softer cheeses like young cheddar and mozzarella can be frozen either cubed (whole in the case of mozzarella) or shredded. The firmer varieties, such as cheddar, gouda and Swiss, tend to come through the freezing process with the least damage to texture and flavor, according to the National Dairy Council. Also, it's worth noting that cheese that is IQF frozen doesn't require pre-treating with an anti-caking agent. These are important aspects to be taken into account by processors.
THE IMPORTANCE OF USING AN OPTIMAL IQF FREEZER
With multiple customers producing premium IQF cheese, we have learned that there is no room for compromise when it comes to product quality and yield for profitable dairy business.
Processing products like cheese come with the additional challenge of making sure that the highest standards of food safety are respected. The OctoFrost™ IQF tunnel has a number of food safety features that ensures food safe production.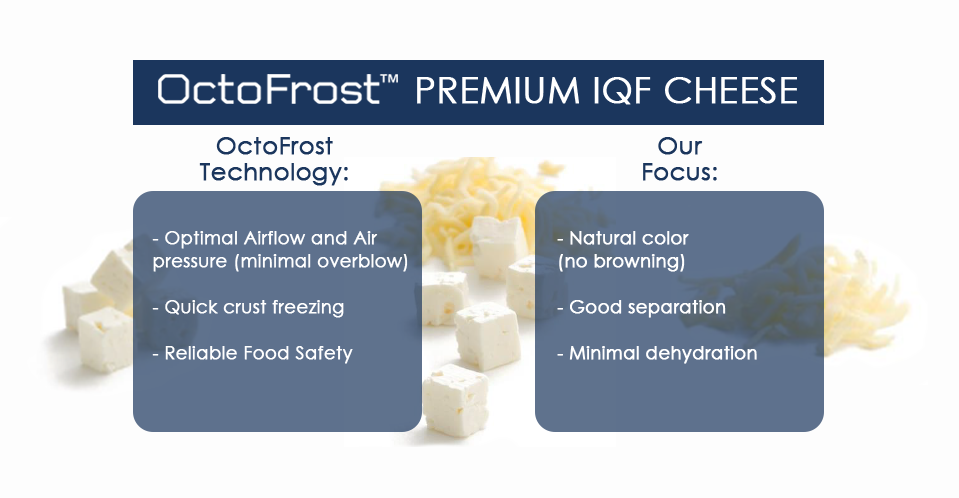 THE OCTOFROST™ TUNNEL FREEZER IS AN OPTIMAL FREEZER FOR IQF CHEESE WITH SEVERAL SPECIFIC TECHNICAL FEATURES WHICH CONTRIBUTE TO:
Energy Efficiency
The OctoFrost™ frequency inverter-controlled motors permit optimal adjustment of airflow and air pressure to avoid overblow, product damage, and formation of fines; this prolongs the time between defrost. Some of the OctoFrost™ customers freeze cheese for up to 5 days without defrosting.
Natural Appearance
The "browning effect" is completely avoided in the OctoFrost™ freezer due to the efficient quick crust-freezing and effective fluidization which takes place in the freezer. A quick crust-freezing ensures minimal dehydration of cheese products resulting in premium product quality with a natural appearance.
Food Safety
Processing cheese comes with unique challenges. The OctoFrost™ IQF tunnel freezer has a number of food safety features such as a free-standing body, no joints, easy access for cleaning, removable bedplates, and cleanable design – all contributing to truly reliable food safety for cheese processors.
Contact Sales@OctoFrost.com for more information!
---