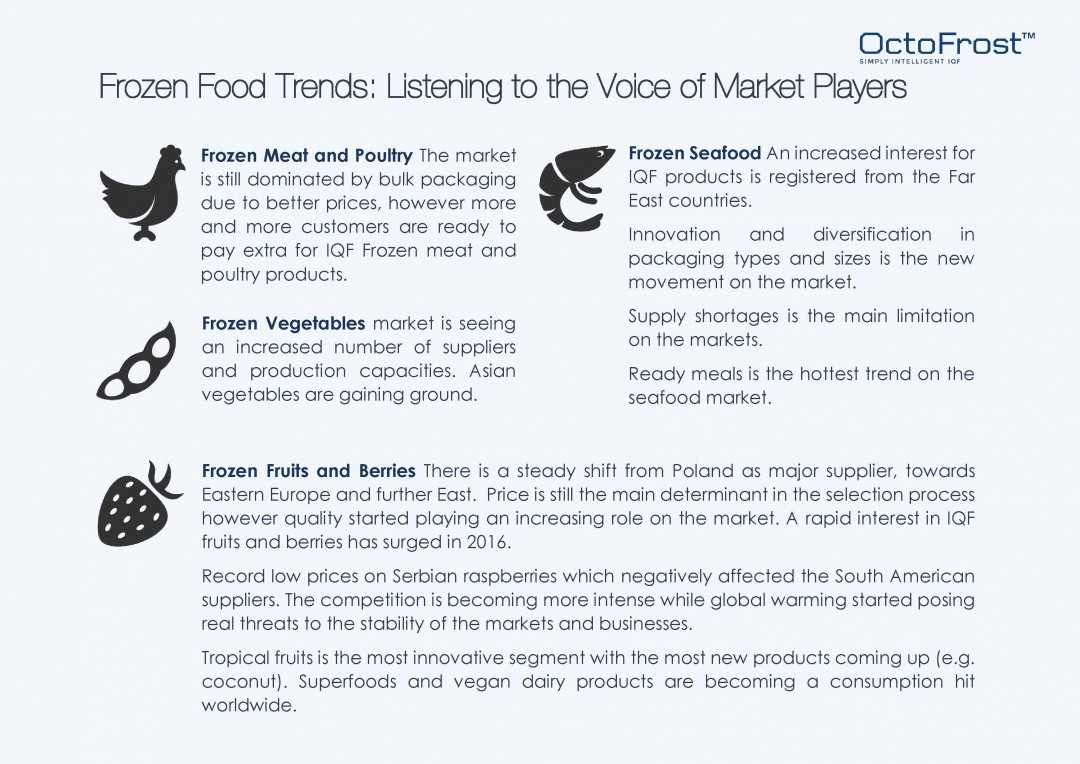 FROZEN FOODS TRENDS: LISTENING TO THE VOICE OF MARKET PLAYERS
The OctoFrost team has conducted a survey among players o the frozen foods market and we would like to share our findings with you. When looking at the markets of different applications here are some interesting insights:
Frozen Meat and Poultry
The market is still dominated by bulk packaging due to better prices, however more and more customers are ready to pay extra for IQF Frozen meat and poultry products.
Frozen Vegetables market is seeing an increased number of suppliers and production capacities. Asian vegetables are gaining ground.
Frozen Seafood
An increased interest for IQF products is registered from the Far East countries. Innovation and diversification in packaging types and sizes is the new movement on the market. Supply shortages is the main limitation on the markets. Ready meals is the hottest trend on the seafood market.
Frozen Fruits and Berries 
There is a steady shift from Poland as major supplier, towards Eastern Europe and further East. Price is still the main determinant in the selection process however quality started playing an increasing role on the market. A rapid interest in IQF fruits and berries has surged in 2016. Record low prices on Serbian raspberries which negatively affected the South American suppliers. The competition is becoming more intense while global warming started posing real threats to the stability of the markets and businesses. Tropical fruits is the most innovative segment with the most new products coming up (e.g. coconut). Superfoods and vegan dairy products are becoming a consumption hit worldwide.
---