IQF Food Processing Lines
Asparagus Line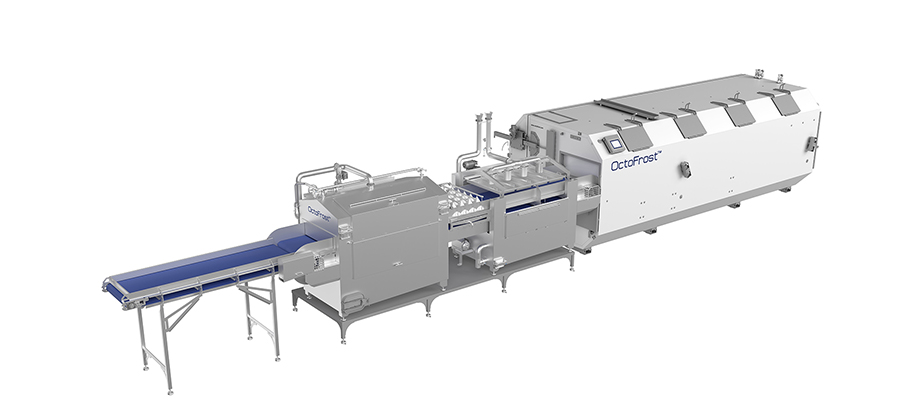 Shrimp Line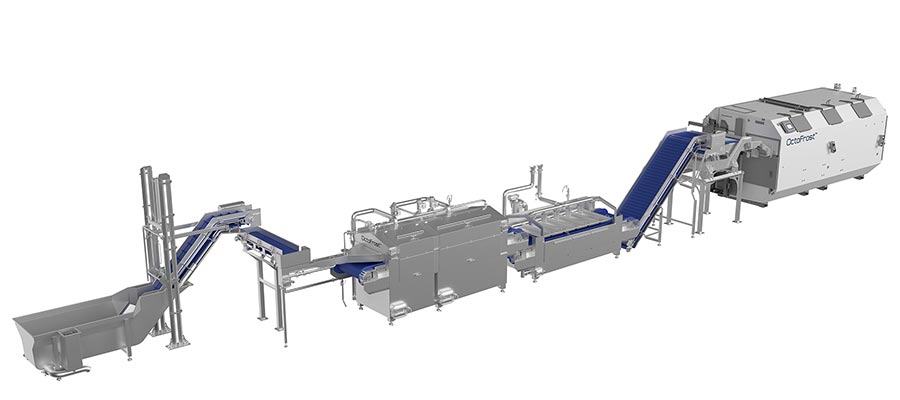 Fruits and Vegetable Line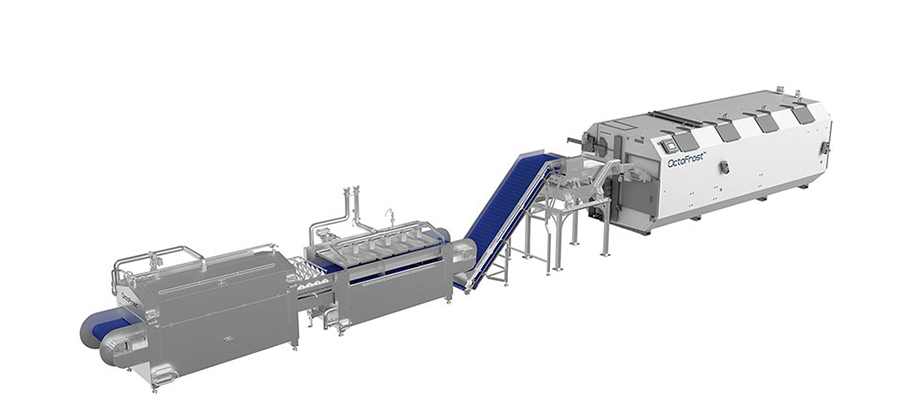 Spinach Line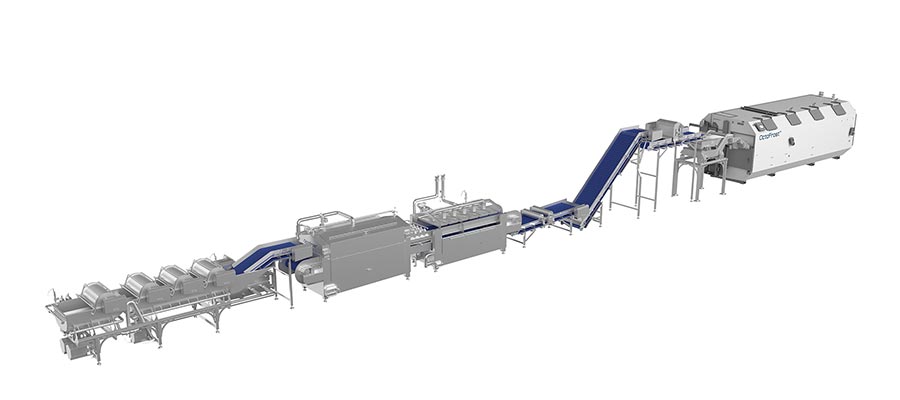 Benefits

Natural Appearance
Using a fully optimized and harmonized IQF Processing Line, the end-product will have the best quality with a natural appearance, appetizing color and texture, and preserved weight.

Energy Efficiency
The rainshower and cross-flow systems of the IF Blancher and Chiller help achieve the quickest heat transfer. Meanwhile, the recirculation system optimizes water consumption. Lastly, the adjustable fan speed of the IQF Freezer translates into significant energy savings.

High Yield
Quick and efficient blanching and chilling, together with the unique aerodynamics of the OctoFrost™ Freezer, result in less snow formation when compared to other technologies. This means minimum product dehydration and higher yield.

Food Safety
The processing line has been designed for optimal food safety. Every part of the IF Blancher and Chiller can be cleaned by their CIP (Cleaning-In-Place). The free-standing body, lack of joints, and exchangeable bedplates of the OctoFrost™ Freezer contribute further to food safety for IQF processors.
OPTIMIZED CONNECTION BETWEEN IQF LINE
Many times the food processors are not sure about which combination of processing machines that they need, how these can be optimized to work together, and who should be responsible for the whole line functionality when considering a number of different suppliers. The final freezing result and energy efficiency can be compromised if the equipment is not optimized or chosen right. Therefore, many processors prefer to have a single supplier for their complete processing line. This is where OctoFrost comes to help food processors with its innovative IQF technology that offers the advantage of having the most efficient equipment and a single supplier for the whole line.

CENTRALIZED TECHNICAL SERVICE AND SUPPORT
OctoFrost provides full knowledge and technical support to ts customers for achieving the best quality IQF products and high profitability. With a sole supplier of the complete IQF line, the processors don't need to worry about the responsible party in terms of the final result, energy efficiency, or technical issues.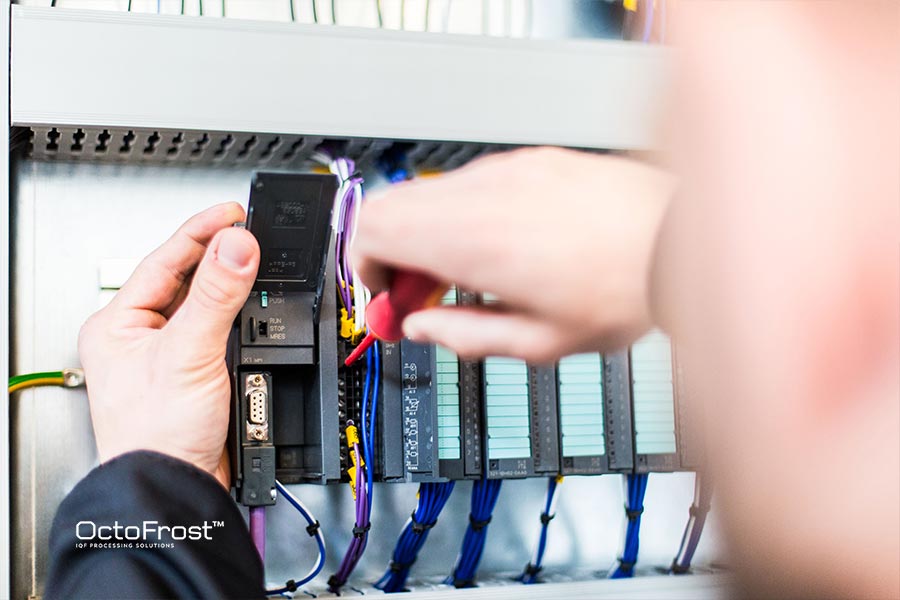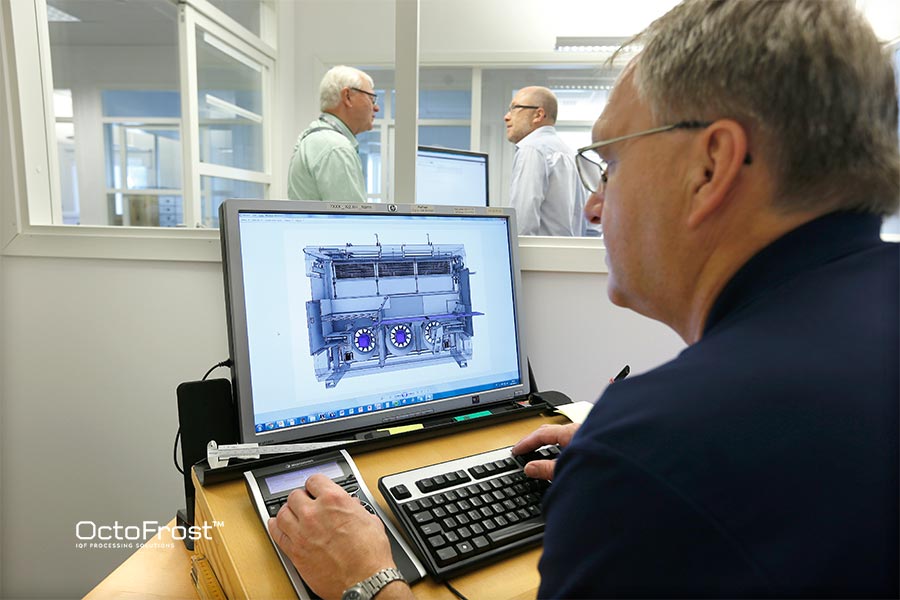 TYPES OF IQF PROCESSING LINE
OctoFrost offers IQF Shrimp Processing LineIQF Fruits and Vegetables Processing Line made with the most sophisticated and efficient technologies on the market. These consist of the following as main equipment:
IF Blancher or IF Cooker
IF Chiller
IQF Freezer
Additional intermediate equipment can also be offered depending on the needs of each customer.
Products for IQF Processing Line
Equipment capacities
OctoFrost offers a capacity range of 1,000 to 15,000 kg/h for the OctoFrost IQF Processing Line.