BENEFITS OF THE MULTI-LEVEL IMPINGEMENT FREEZER
Honoring our commitment to continuously innovate sustainable solutions, OctoFrost has launched the Multi-Level Impingement Freezer – a new and unique solution for the food processing industry.

Natural Appearance
The straight belts running on three levels preserve product shape and give the flexibility of running different products on each level.
Energy Efficiency
Much quicker freezing is achieved when compared to other belt freezers due to the high volume and speed of the cold air streams.

High Yield
With its compact design, the OctoFrost Impingement Freezer achieves more than double production capacity per factory m² due to the multiple belt levels.

Food Safety
The OctoFrost Multi-Level Impingement Freezer is significantly easier to clean than any spiral freezer due to its open design and easy access.
WHAT IS IMPINGEMENT
Freezing static products on a belt, with high-speed air streams from both top and bottom.
Commonly used for thinner products and crust freezing.
Very low dehydration due to quick freezing.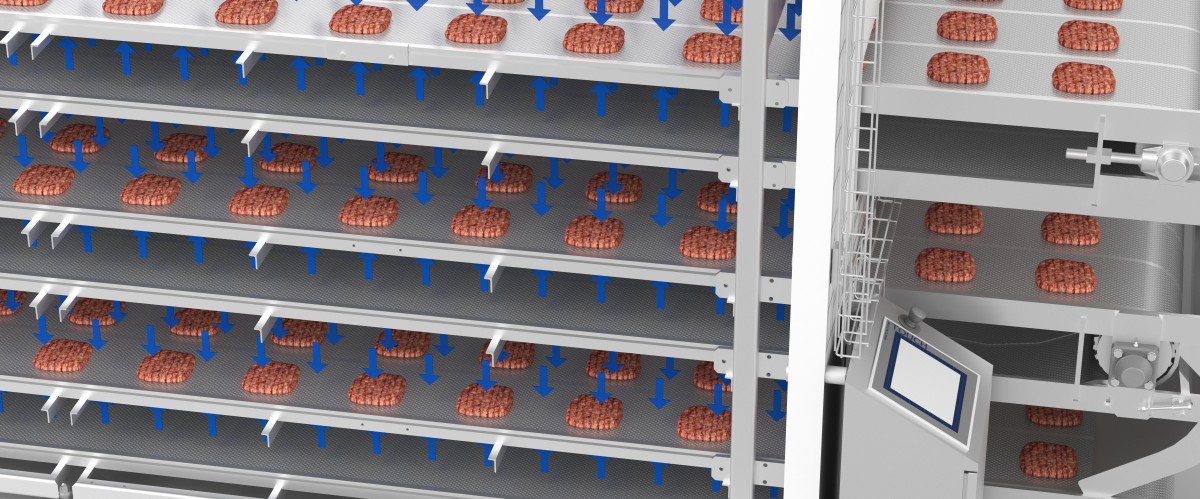 PROBLEMS WITH TRADITIONAL IMPINGEMENT FREEZERS
By working in the industry over the years, OctoFrost realized that the traditional impingement freezing technology was inefficient in terms of cost, space and energy consumption. Due to its size, a traditional cryogenic or spiral freezer can take up a large area. Moreover, the use of liquid nitrogen adds up running costs for the processors, making it an expensive alternative.
Thus, in 2021, OctoFrost innovated a compact freezer based on the principle of impingement, which is smaller in size compared to spiral freezers but competitive in terms of capacity.
AN INNOVATIVE APPROACH TO IMPINGEMENT FREEZING
OctoFrost designed the Impingement Freezer for a small footprint. Instead of using a single belt like that in cryogenic freezers, OctoFrost's Impingement Freezer uses three conveyor straight belts that double production capacity per square metre of factory space.
The Multi-Level Impingement Freezer offers several advantages to frozen food processors, including higher load capacity, preserved product shape and flexibility to run different products on each level. The freezer's unique and compact design also allows for efficient cleaning.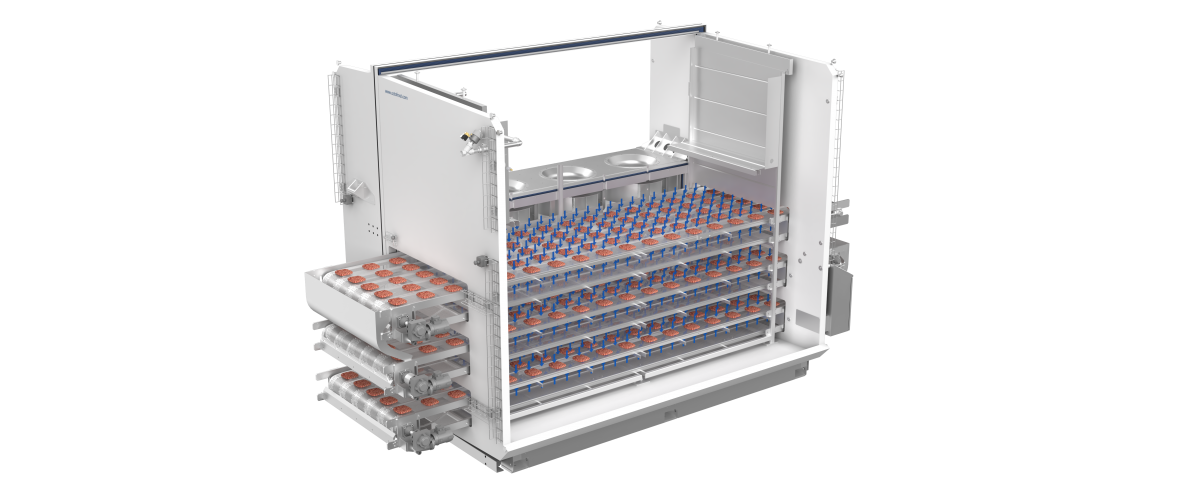 UNIQUE OPPORTUNITY FOR SHRIMP PROCESSORS: GLAZING COMBO
OctoFrost can offer a unique opportunity, for shrimp processors in particular, by combining the Multi-Level Impingement Freezer with glazers installed at both ends. This setup allows glazing three times together with glaze hardening - all in one freezer - an extremely space- and investment-efficient solution.
Contact our team for more details on sales@octofrost.com
SUITABLE PRODUCTS
The OctoFrost Multi-Level Impingement freezer is suitable for applications up to 25 mm thick. It can be also used for crust freezing prior to slicing for a wide variety of larger products such as pork loin, larger fish and similar products.